The Perseverance of Meghan Fabulous: Sparkle Never Hurt Anyone!

With insight and lessons learned from the past, Meghan Fabulous is on top of her game. I met with Meghan and Steve Dunlap, CEO of Meghan Fabulous in her eclectic studio in El Segundo. The vibe was high end hippie cool, and her designs were off the charts, well, fabulous. Meghan is her brand, the essence of her vision. Tall, blond, beautiful. She wears her clothes with ease and confidence, and she wants her clients to feel the same.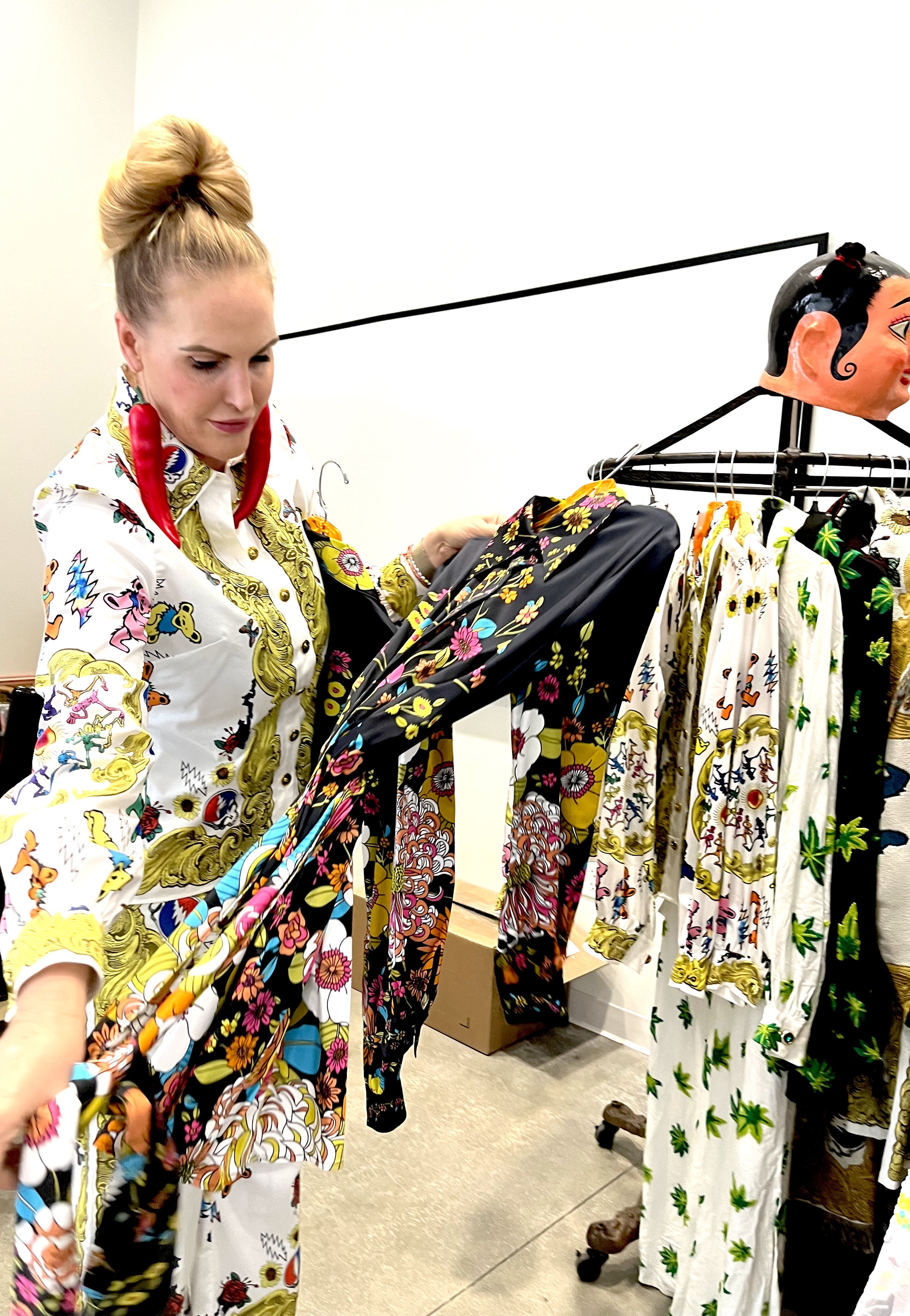 At 24, feeling depressed after losing the right to use her legal name in commercial ventures, Meghan consoled herself on the beach, beading Grateful Dead t-shirts, which she turned into dresses. Someone said to her, "You can't give up now, just change your name." She took that sentiment to heart and thought to herself, "It would have to be something fabulous… it was like a lightening strike." Meghan Fabulous was born, and she was off and running. Inspired by Shakedown Street, which is the community of artists who radiate outside of Grateful Dead concerts, Meghan fell in love with, and became obsessed with the art of the Grateful Dead and hippie culture that extended beyond the music. Her clothes represent that culture in part, and she has elevated those inspirations, but a hint of her time in Palos Verdes also shines through.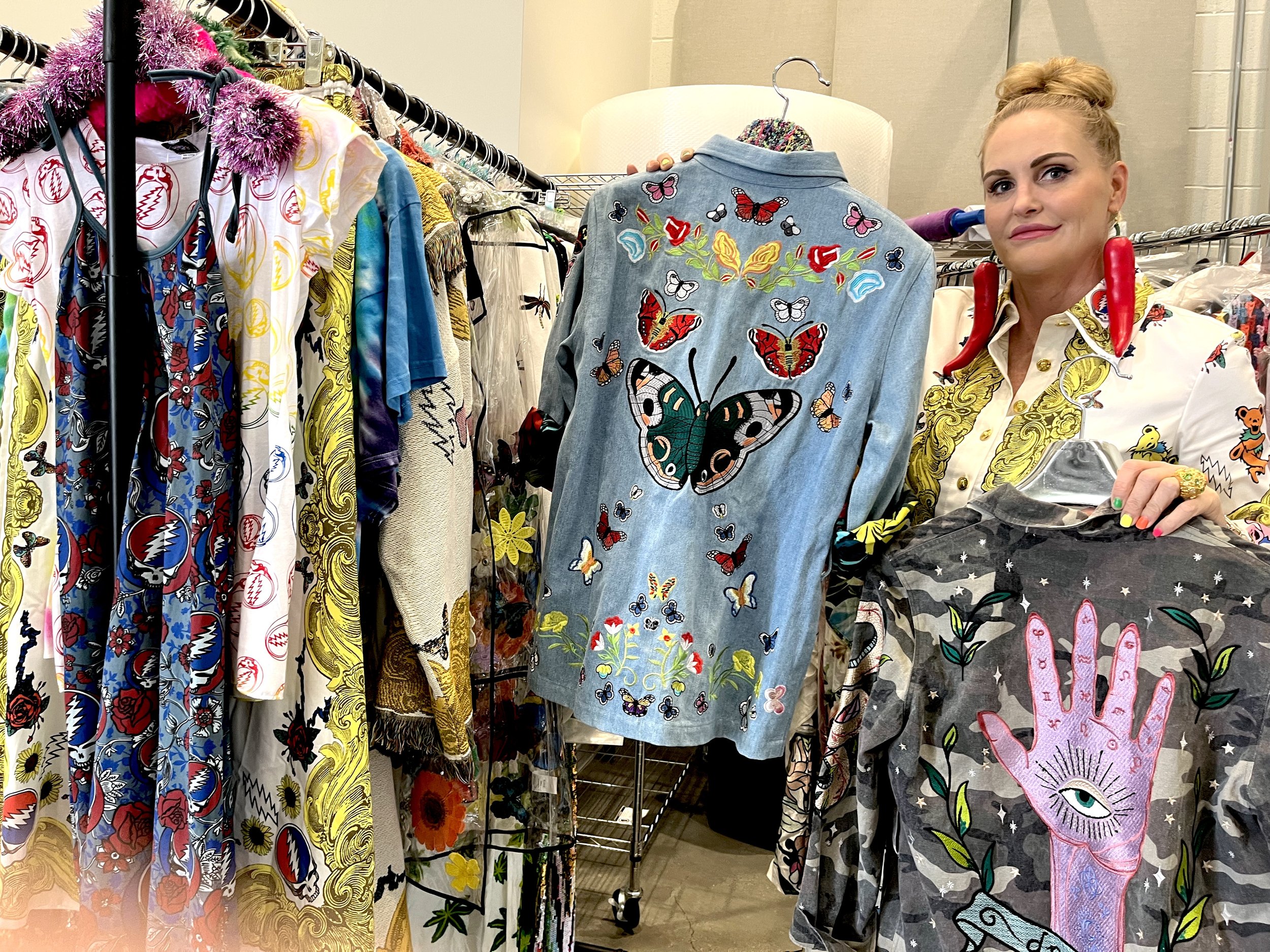 Meghan lived in Palos Verdes as a child. Her mother was a 6th grade teacher at Chadwick. Like Martha Stewart, her mother enjoyed teaching Meghan how to sew and cook. The cooking didn't take, but the sewing did, and they bonded together through creating clothes. Her mother bought her a sewing machine when she was six, and her future career started to form. She was fascinated at the idea she could make something on her own to wear. As a child, she would drape quilts over her, and try to replicate the colorful complexities of quilting to her clothes. Although Meghan doesn't remember much about her life in Palos Verdes, it seems that the natural environment sunk in.
Meghan loves the color turquoise because it reminds her of the ocean. She loves flowers and natural elements. She likes feeling at one with nature. And she incorporates those elements in her designs. She especially loves butterflies. Since her mother died, Meghan says, "Every time I see a butterfly, it makes me think of her." That sentimental quality within Meghan comes out in her designs.
They are flirty, and flattering. Illusion items, wraps, yielding fits, all seamlessly harmonized in her designs. She has a unique way of incorporating these elements for a wide range of sizes, without giving the slightest hint of it. Flowing sleeves and beautiful patterns take charge. These clothes are meant to make a statement. Meghan was born to design, and it shows. She creates her own prints, which flow effortlessly. She has an eye for mixing patterns. The colors and cuts are flattering and mindful; full of thought and detail. They are completely artful. Her clothes are funky, feminine, and yes, fabulous. Skimming the body in the most flattering ways. As unique as her designs are, they are also timeless. Women remember they have a "Meghan" dress in their closets. Accessories are affordable and fun. The best part of her designs are that they can be worn high and low. Meaning, a high end piece from her Boheme collection can playfully be worn with one's favorite jeans.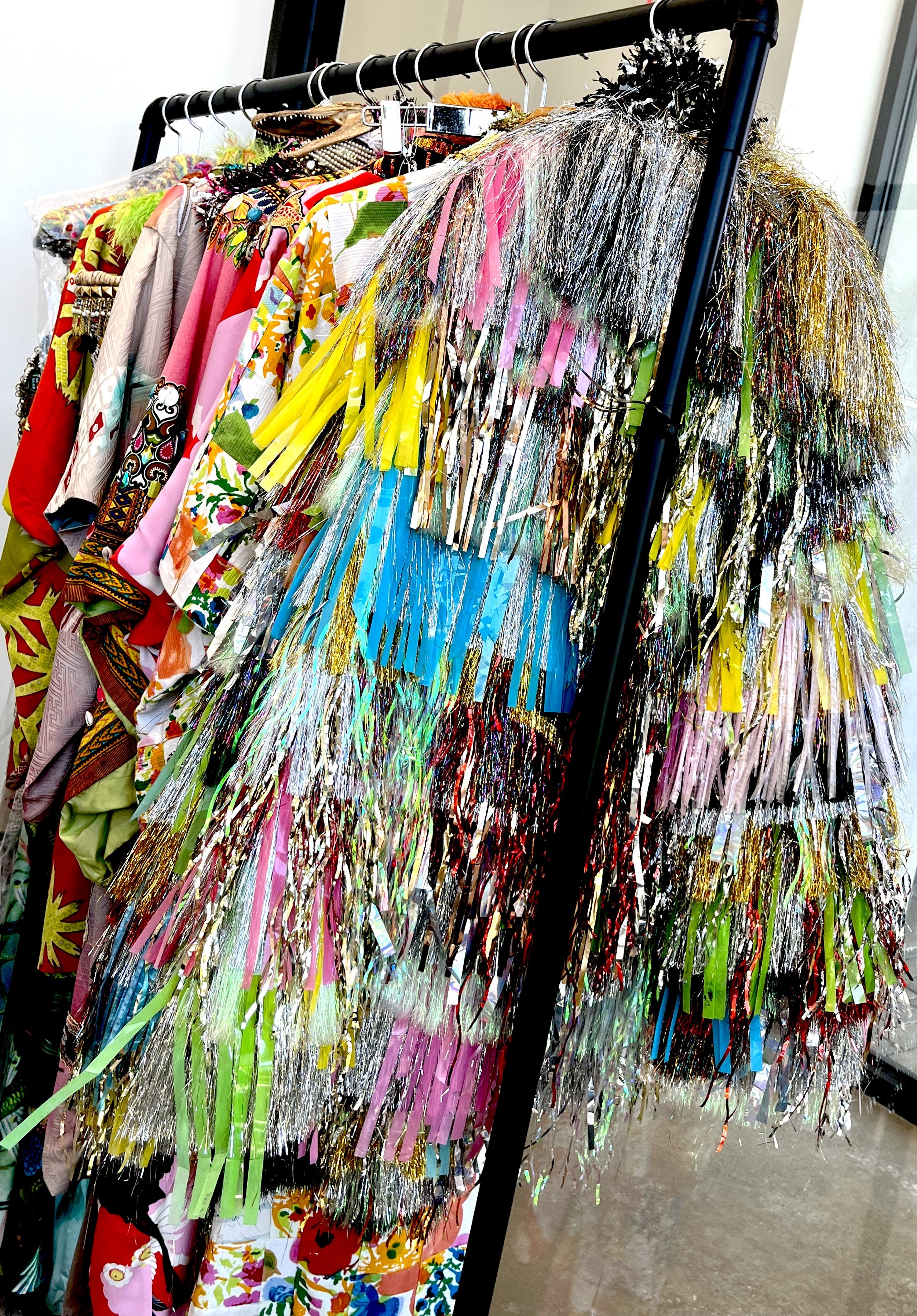 It's the confidence of the designs that gives Meghan's clothes their lasting appeal. The person and persona of Meghan Fabulous are one. Her clothes will make any woman feel as singular as she is.
Meghan Fabulous sells online primarily through her website meganfabulous.com and bohemelosangeles.com. Some of her clothes can also be found at Novecento Boutique in Newport Beach.
View the original article here!
Leave a comment